Local Financial Institution
Columbus GA and surrounding areas
Credit Union, Financial Institution
SEO Management, Retargeting Management, & Google Ads Management
Kinetic Credit Union has been a part of the Columbus area long-term and is a well-trusted local financial institution. When they reached out to Stand And Stretch to manage their digital marketing services we jumped at the opportunity. The challenge was to make their website perform better in Google Search while increasing customer interactions for banking services.
SEO Management: (Increase organic traffic)

The first goal with all SEO clients is to increase organic search traffic and create SEO-focused content for our client's website to improve page ranking. Effectively improving a website's SEO is a long process. It's not just a matter of pointing Google to a client's site, but rather a painstaking process of analyzing how people search for the type of services a client offers in a particular area. From there, we have to figure out how to shift content and site health to improve ranking and help visitors find our clients.
We utilized various industry-leading analytics and monitoring tools to create a baseline from which to measure and evolve Kinetic's web presence. After reviewing the data, created a multi-point plan to improve site health and increase ranking for targeted keywords. We analyzed weak points in copywriting and keyword density on various pages so we knew where our copywriters needed to focus to improve weak pages. We found and fixed broken elements on pages, added new landing pages to the site, and improved overall site health with routine maintenance of the web platform. Over the past two years have increased its Google Search ranking by 15.98% with our efforts. We continue to create monthly blog content, monitor site health and are constantly tailoring our efforts to track effective keyword usage/density throughout the website.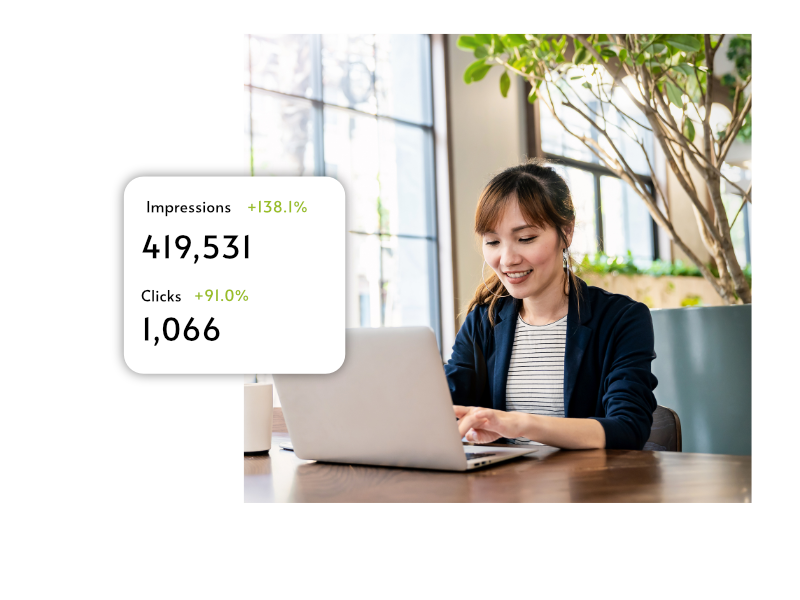 Google Ad Management: (Increase website traffic, Target Potential Viewers)

Optimizing the website itself is just the first step to increasing a website's effectiveness. One of the biggest challenges to helping a website convert visitors into customers is getting potential clients to return to the website after they have visited.
We like to not only have general traffic to our client's websites but try to target people within our client's service area who will actually convert into paying customers. By consolidating our ads on focused locations where Kinetic has established customer bases, we were able to target customers that had visited the site previously. From there, our retargeted ads provided direct access back to the website from social and web platforms. We effectively brought customers back to the platform and increased brand visibility within concentrated service regions. From June to December 2021, Kinetic Credit Union's ads have been served 419,531 times, with over 1,000 clicks.

Google Ad Management: (Increase website traffic, Target Potential Viewers)

Kinetic has many successful facets to its business and a trusted brand presence that has attracted thousands of customers. That being said, all businesses are constantly striving to see how they can continue to grow. One area Kinetic wanted to grow was its home and auto loan services, and one of the fastest ways to do so was by driving traffic on the website to those services.
We first wanted to do extensive market research to find out how Kinetic's competitors were attracting people to similar services. Then, by analyzing the strengths and weaknesses of those campaigns, our creative team of marketing professionals crafted our own Google Ads campaign. One of the benefits of working with Certified Google Partners is that our clients end up with Google Ad campaigns that are not only more visually appealing, but better targeted and more effective at converting visitors into customers in the specific high-density markets for these services. Our Google Ads campaigns for Kinetic have increased ad performance, impressions, and clicks for their website and helped those targeted services grow at an unprecedented rate.