As a business owner, an important aspect of your business comes with the ability to share user experience. You want potential customers to know you can offer a GREAT service, and share those reviews with all in your network. (Better still, all who are searching your brand or industry.)
However, unless viewers are specifically looking for them, reviews can often get buried or lost on a website.
Enter Shopper Approved, a software platform that allows you to collect this data (customer feedback) and turn it into usable and sharable content.
How Shopper Approved's Software Works
Businesses can use Shopper Approved software on their website to ask for personalized video reviews, quotes, and more. By offering a discount, etc., companies can gain video reviews, posted and live online.
Then, they can display it through social media, with local searches, and more.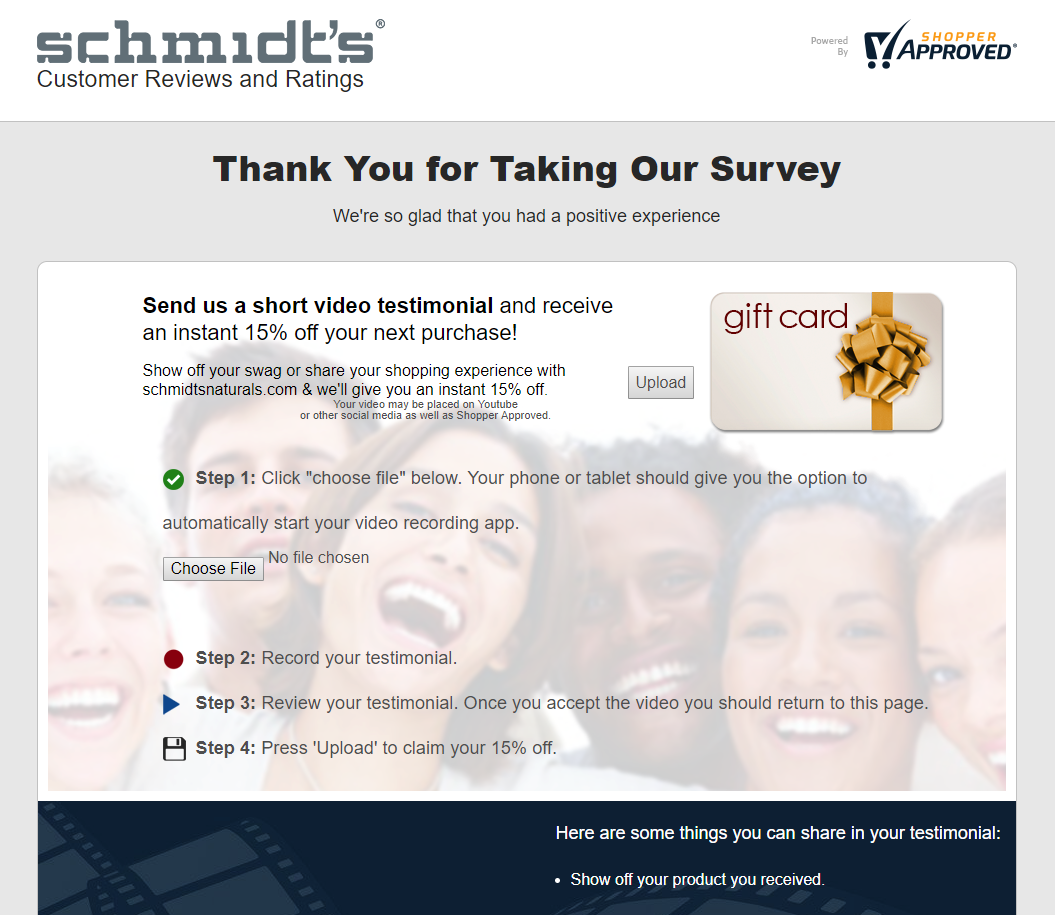 This example from Schmidt's Naturals comes with a 15% discount for those who participate. After placing an order, customers will be fed to this page with clear instructions on how to record, upload, and share their review.
The review is then sent directly to the company so they can upload on their platforms.
Shopper Approved also allows brands to use reviews in Google ads, as well as other search engines. That way, customers will see actual reviews as they search for a brand or service. Reviews can be used on social media, websites, and more – with a versatile platform, Shopper Approved lets companies obtain and utilize custom, positive brands that will help push their business forward.
Why Customer Reviews are Important
Shoppers want proof that a brand will be worth their time and funds. Reading about others' great experiences is one of the best ways to share that data. Reviews have long-since been a great way to spread word-of-mouth branding, but as online shopping increases and more and more consumers are looking for new people to trust, online reviews are hitting closer to home. They are bringing in more business, fueling more sales, and ultimately, providing brands with more money earned.
Research shows that 36% of shoppers check reviews before shopping on a consistent basis, while 17% read reviews every time they purchase. This is simply among those looking for reviews, but when using software that puts those reviews front of mind, the numbers rise even higher.
How Customer Improved Can Help Your Brand
If you aren't already implementing customer reviews on your website, this is a great way to enforce positive experiences. You are utilizing information that is already available to your company, and costing minimal dollars in order to do so. (The only fees associated with obtaining reviews is the discount offered. Better still, you set the price!)
Next, all that's left is to start displaying your reviews and watch the sales start rolling in.
Want to learn more about using customer reviews to bring in more sales? We can help! Contact Stand And Stretch today.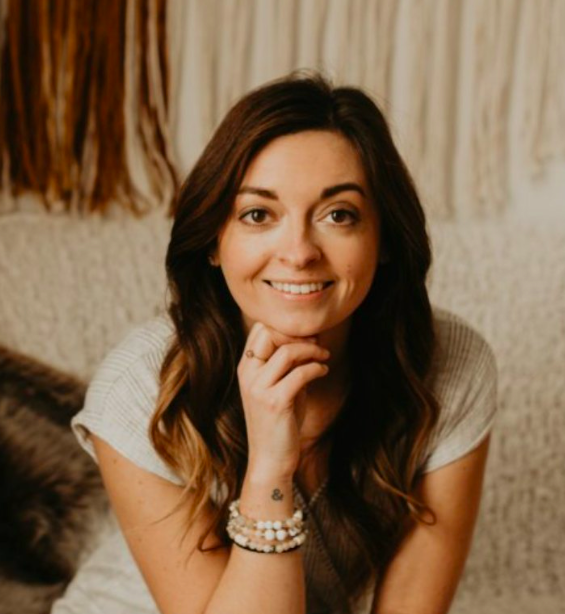 Freelance writer and editor turned SEO specialist with 10 years of professional digital writing experience. She enjoys working with clients and putting their ideas into informative content. She is also a military spouse entrepreneur advocate, volunteering, and writing in MilSpo spaces. When not working, she can be found chasing around two toddler boys.